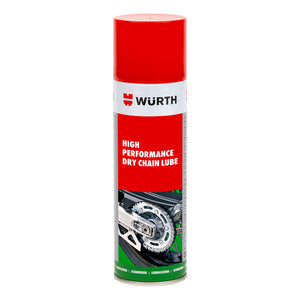 Transparent, high-pressure resistant, highly adhesive lubricant.
Prevents running noise and wear.
Forms a quick-drying, tough-elastic lubricating and protective film.
Does not attack Perbunan O-rings.
Resistant to water, steam, acids and bases.
Protects against corrosion.
Targeted dosing to inaccessible locations also possible.
Can also be applied to running machinery, since the user's hands always remain outside the hazard zone.
Notice
Shortly after being sprayed on, the product forms a highly effective, wax-based lubricating film, thereby ensuring optimum protection against lubrication.
CLICK HERE to watch our how to lubricate your chain video!
CLICK HERE to watch our how to maintain your bike video!