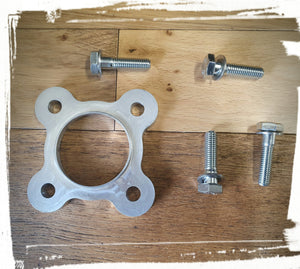 This is a conversion kit to fit our upgraded JT rear sprockets on models with dished rear sprockets such as euro 4 Mutt 250 & Mash 250's. It also converts some EURO 3 sinnis retrostar 250 rear sprockets too. This not only allows you to fit a better quality rear sprocket but also opens up potential to fit sprockets with more or less teeth to allow customising of the gearing, you only need this once, for future purchases you can buy a chain & sprocket kit without the need to buy this ever again.
Conversion kit
Comes with longer bolts to allow fitting the spacer
You only need our 250 rear sprockets to complete the setup
This allows you to fit our JT sprockets
Please check what the thread pitch on your rear wheel is before ordering and select the pitch required (1.5mm or 1.25mm) if your unsure you can order the kit with both bolts too.