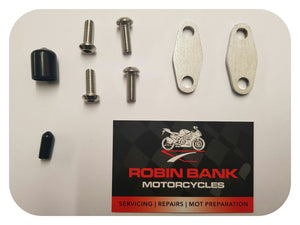 For Sale is the PAIR Blanking Kit to fit: Suzuki SV650 99' to 02' Fits all carb models with PAIR valves.

PAIR Valves:
The PAIR system routes fresh air from the airbox to the exhaust system in order to reduce emissions. This system is fitted to pass emissions tests when manufacrtured, they can cause problems when fitting aftermarket exhausts.
Our Kit comes complete with plates, bolts and bungs to completely eliminate the PAIR valve and all its plumbing.
Fitting our kit helps with the following:
Reduces exhaust popping under deceleration

.Shows accurate A/F mixture when tested, which makes tuning easier and more accurate

Reduces Weight & Clutter

Allows you to completely remove the valve and all of its components
Our kit consists of:

x2 Stainless Steel Blanking Plates
x4 Stainless Steel Bolts
x1 airbox bung
x1 Vacuum bung

Fitting this kit could make your bike run better, looks better, reduce weight and increase reliability.