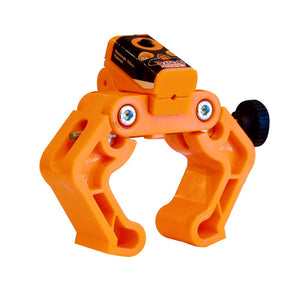 Laser Monkey provides precise wheel alignment for both chain and belt driven motorcycles, of any make and model, regardless of sprocket or pulley material.
Improve Performance
Prolong Sprocket Life
Increase Chain Life
Optimise Power Delivery
Smoother Ride
Laser Monkey by Tru-Tension is an innovative laser alignment tool designed to ensure precise and quick setting of the drive wheel on a motorcycle. Ensuring your wheel is aligned accurately now couldn't be simpler!
The unique Laser Monkey design uses the sprocket or pulley of the motorcycle to send a laser directly down the centre of the chain/belt, ensuring fast and easy wheel alignment. Precise alignment of the wheel ensures prolonged life of moving components to save you money, coupled with improved handling characteristics and optimised power delivery. Simply adjust the rear wheel until the laser is aligned with the centre of the front sprocket and your wheel will be aligned with precision.
The Laser Monkey can be coupled perfectly with the Chain Monkey for precise and fast chain tension and wheel alignment in one easy step.
CLICK HERE to watch our how to lubricate your chain video!
CLICK HERE to watch our how to adjust your chain video!