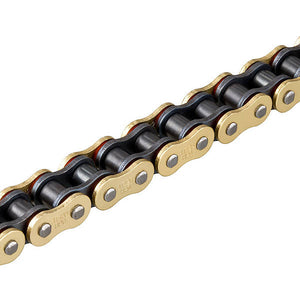 JT's Best Quality chain for small engines, GOLD & Black o-ring chain.
Using their experience and technical expertise in drive components, JT ensure that the specifications of JT advanced power transfer chains meet or exceed the requirements of all modern motorcycles, be it street, motocross, enduro, off-road or ATV. Available in all sizes, a full range is available for all types of motorcycle in black steel or nickel finish.
JT Heavy duty chain for some chinese 125cc models, lasts much longer than standard chains.
0-ring heavy duty chain
Improves performance & reduces wear
GOLD and Black with red o-rings.
Fitting for Sinnis Hoodlum 125 (standard gearing)
Please be aware if you dont have the standard sprockets (13T front & 43T rear) this chain may not fit, we do however stock longer chains for larger sprockets. for fitting smaller sprockets you can simply remove links out of the chain with the correct chain splitting tool.