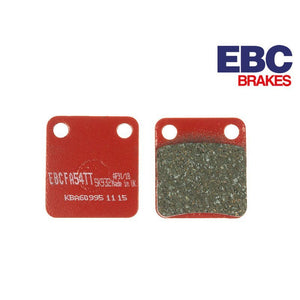 EBC Organic Brake Pads FA series Kevlar organic pads provide
fingertip stopping power and are the preferred choice for many sportbike riders; having low disc attack characteristics and medium lifetime.

"TT" Series Moto-X Sport and Enduro Pads Cool running carbon based brake pad compound for sport use in moto-x and ATV
applications. For mud; sand or wet conditions requiring longer life; use our sintered range opposite.
FA054 39.5 x 45 x 7.5mm

AJS
Regal Raptor DD 50 E/E2 04-10 F
JS 125-E/E2 (Eco 125) 07-10 F
JS 125-E (Eco-2 125) 09-11 F
JSM 125 Supermotard 10-11 R
ASPES
Perseo Hybrid 150 11 F
HONDA
MB 5 S 80-82 F
MG 50 S/X/1/3 Magna 50 95-03 F
MRX 50 88- F
MBX 80 FWDD/FWDF 83-86 F
CB 125 RS 83 F
CBX 125 TS Custom 82 F
CG 125 ES4-ES8 04-08 F
CG 150 ESD Titan 04-05 F
CG 150 KS/ES Titan 04-05 F
CBX 200 Strada 97-01 F
ATC 250 RB 81 F
HYOSUNG
TE 450 Quad Rapier 06-09 F&R
KAWASAKI
KX 65 A1/A2/A3/A4/A5/A6/A6F/A7F/A8F/A9F/AAF
/ABF/ACF/ADF 00-13 R
KH 125 K1 83 F
BN 125 A1/A2 'Eliminator' 98-99 F
KLX 125 CAF/CBF/CCF/CDF 10-13 R
KLX 125 DAF/DBF/DCF/DDF D-Tracker 10-13 R
KVF 300 A1/A2/A3/A4/B1/B2/B3/B4 (Prairie 4x4/2x4) 99-02 F
KVF 360 A1-A3/A6F/A7F/A8F/A9F/AAF/ABF
/ACF/ADF Prairie 03-13 F
KVF 360 B1-B3/B6F/B7F/B8F/B9F 03-09 F
KVF 360 C1-C3/C6F/C7F/C8F Prairie All models 03-08 F
KVF 400 A1/A2/B1 'Prairie' 97-98 F
KVF 400 C1/C2/C3/C4/D1/D2/D3/D4 (Prairie 4x4/2x4) 99-02 F
KEEWAY
Dragon 250 Quad 07-09 R
KREIDLER
125 DD Supermoto 12-13 R
SUZUKI
RM 65 K3/K4/K5 03-05 R
DF 125 F
DR 125 SF/SH/SJ 85-94 F
DR 125 SEX/SEY 99-01 F
TS 125 XUF/XUG/XUH/XUJ 86-90 F
DF 200 EV/EW/EY (SH42A) 98-00 F
DR 200 G/H/J 86-89 F
DR 200 SEP/SER/SES/SEV/SEW/SEX/SEY
Djebel (SH42A) 93-00 F
DR 200 SE Trojan F
DR 200 SEK1-SEK9 01-09 F
SX 200 R/R2/RJ/RM 90-91 F
GARELLI
Fashion F150 07 F
HUSQVARNA
TC/TE 610 92-94 R
JIALING
JH 125 B Roadstar 98 F
TAISHAN
XT 50 03-04 F
Sport 50 03-04 F
CT 125 04 F
PEUGEOT
New Vivacity 50 (2T) 08-11 F
New Vivacity (50cc/2T) (12" wheels/200mm dia disc) 08-12 F
New Vivacity 50 (4T) 08-11 F
New Vivacity (50cc/4T) (12" wheels/200mm dia disc) 08-12 F
New Vivacity Sixties (50cc/4T) 12" wheels/200mm disc) 10-12 F
Sixties Vivacity/50 (4T) 10-11 F
Sum-up (125cc) 08-11 F
PGO
BR 150 A Bugxter 04-06 R
Bugrider 50 (Buggie) 06 R
Bugrider 150 R
Bugrider 250 SS (Single seat) R
Bugrider 250 R
LT-F 250 K2/K3/K4/K5/K6/K7/K8/K9/L2 Ozark 02-12 F
TS 250 XE/XG/XH/XJ/XK 85-89 F
LT-A 400 FK2/FK3/FK4/FK5/FK6/FK7 Eiger 4WD 02-07 F
LT-A 400 K2/K3/K4 Eiger 02-04 F
LT-F 400 FK2/FK3/FK4/FK5/FK6/FK7 (Eiger 4WD) 02-07 F
LT-F 400 FK5/FK6/FK7 Eiger 02-04 F
LT-F 400 K2-K7 02-07 F
LT-A 500 FK2/FK3/FK4 Vinson 4WD Auto 02-07 F
LT-F 500 FK3/FK4/FK5/FK6/FK7 Vinson 03-07 F
YAMAHA
YFS 200 R/S/T/V Blaster 03-06 F
YFM 250 XN/XP/XR/XS 01-04 F
YFM 250 BT/BV Bruin 05-06 F
YFM 250 BW/BX/BY Big Bear 05-10 F
YFM 350 XD/XE/XF/XG/XH/XJ/XK/XL/XM/XN/XP/XR 92-03 F
YFZ 350 U/B/D/E/F/G/H/J/K/L/M/N/P/R/S/T/V Banshee 88-09 F
YFM 350 FXG/FXH/FXJ/FXK/FXL/FXM/FXN
/FXP/FXR/FXS Wolverine 95-04 F
YFM 350 FGW/FGX/FGY/FGZ/FGA/FGB Grizzly 4WD 07-12 F
YFM 350 FGIW/FGIX/FGIY/FGIZ Grizzly 4WD IRS 07-10 F
YFM 350 L Big Bear 99 F
YFM 350 FAS/FAT/FAV Bruin 4x4 04-06 F
YFM 350 ANS/ANT/ANV Bruin 2x4 04-06 F
YFM 350 XV/XXW/XX/XY 2WD Wolverine 06-09 F
YFM 350 GW/GX/GY/GZ Grizzly 2WD 08-10 F
YFM 400 FAM/FAN 00-01 F
YFM 400 FPR/FPS 03-04 F
YFM 400 FWT (Big Bear) 05 F
YFM 400 FGW/FGX Grizzly 07-08 F
YFM 450 FAR/FAS 03-04 F
YFM 450 FAT/FAHT/FAV (Kodiak) 05-06 F
YFM 450 FGW/FGX/FGY Grizzly/IRS 07-09 F
YFM 450 FXV/FXW/FXX/FXY/FXZ Wolverine 06-10 F
YFM 450 FGIZ/FGIA/FGIB Grizzly IRS 10-12 F
YFM 450 Grissly EPS FGPA/FPGB 11-12 f
CCM
C-XR 125 E 08-09 R
C-XR 125 M 07-09 R
C-XR 125 S 08-09 R
C-XR 230 E 07-09 R
C-XR 230 M 07-09 R
C-XR 230 S 07-09 R
LX 350-4A Quad 08-09 F
LX 700-4A Quad 08-09 F
DAELIM
Altino 125 01-04 F
Otello 125 (NS 125 DLX) 00-02 F
NS 125 DLX/III 03-07 F&R
History 125 01-06 F&R
SL 125 Otello Fi 07-09 R
SQ 125 S2 Freewing 07-09 R
Tapo Message 50 04 F
POLARIS
Trail Boss 4x4 87 F
QUADZILLA
RV 125 Midi RV Bug R
RV 150 Midi RV Buggie R
BR 200 07-08 R
BR 250 R
XRV 250 R
XL 300 R
SACHS
X Road 07 R
Mad Ass 50 (4T) 06-09 R
Mad Ass 125 (4T) 06-09 R
X-Road 125 08 R
XTC 125 08 R
SINNIS
Apache 125 QM 125 GY-2B(A) (Rear disc model) 09-10 R
Blade 125 QM 125 GY-2B 08-10 R
Eagle 125 QM 125 T-10R 10 F
Matrix II 125 QM 125 T-10H 10 F
Matrix 125 07-09 F
Egocity 125 (125T-86) 07-09 F
SUPERBYKE
RMR 125 07-09 R
SYM
Quadraider 600 06-07 F