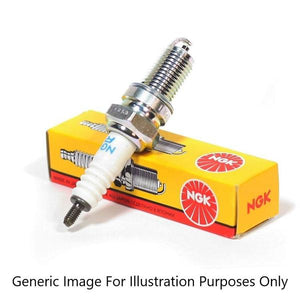 NGK Standard Spark Plug - CR9E
NGK is the undisputed leader in Motorcycle Spark Plugs, with spark plugs for virtually every Motorcycle and Scooter application in the world. Utilizing a wide variety of materials, from standard copper-core type to Iridium, NGK is the world's leader in spark plug engineering and technology. NGK Spark Plugs are specified by more motorcycle manufacturers, including Honda, Yamaha, Suzuki, and Kawasaki.
Triple-Gasket Sealing Process
Virtually eliminates the possibility of combustion gas leakage through the shell. Most other manufacturers only use two seals.
Solid-Copper Core
Produces a more powerful spark with less firing voltage. Other manufacturers use a "copper coated" center core.
Corrosion Resistant
Zinc Chromate Coating double dipped for maximum protection. An NGK exclusive.
Alumina Silicate Insulator
Virtually pure to insure dielectric and physical strength, as well as heat transfer away from the tip for maximum performance.
Corrugated Ribs
Eliminate "flashover", which can cause misfiring and engine damage, especially in damp environments.
Fits the following models
BENELLI

TNT 1130 04-05, 05-06, 06-18, 04-05 (Cafe Racer), 04-05 (Sport), 04-05 (Titanium)
TNT 1130 Cafe Racer 06-12, 06-18
TNT 1130 Titanium 07-18
TNT 899 08-18
TNT 899 S 08-18
Tornado Tre 1130 06-10 (Radial Caliper), 11-13
Tornado Tre 900 RS 03-05, 06-13
Tre-K 1130 06-11, 12-18
KAWASAKI
Zephyr 1100 92-93 (A1), 93-94 (A2), 1994 (A3), 95-96 (A4), 96-97 (B1)
ZX-10 88-89 (B1), 88-90 (B2), 90-91 (B3)
ZX-6R Ninja 02-03 (A1P), 03-04 (B1H), 2004 (B2H), 04-05 (C1H), 05-06 (C6F), 1995 (F1), 95-96 (F2), 96-98 (F3), 1998 (G1), 98-00 (G2), 2000 (J1), 01-02 (J2), 06-07 (P7F), 09-10 (R9F)
ZX-6RR Ninja 03-04 (K1H), 2004 (M1H), 2005 (N1H)
ZX-7R Ninja 1996 (P1), 96-97 (P2), 1998 (P3), 98-99 (P4), 99-00 (P5), 2001 (P6), 02-03 (P7)
ZX-7RR Ninja 96-99 (N1)
ZXR750 89-90 (H1), 90-91 (H2), 1991 (J1), 91-93 (J2), 92-94 (L1), 93-94 (L2), 94-96 (L3)
ZZ-R1100 90-91 (C1), 91-92 (C2), 91-92 (C3), 92-94 (D1), 93-94 (D2), 94-95 (D3), 95-96 (D4), 96-97 (D5), 1998 (D6), 98-00 (D7), 01-02 (D9)
ZZ-R1200 2002 (C1H), 02-04 (C2H)
ZZ-R600 90-91 (D1), 91-92 (D2), 91-93 (D3), 93-94 (E1), 01-02 (E10), 02-04 (E11), 03-04 (E12H), 04-05 (E13H), 93-94 (E2), 94-95 (E3), 95-96 (E4), 96-98 (E5), 1998 (E6), 05-06 (E6F), 98-00 (E7), 2001 (E9)
SUZUKI
GSF650 Bandit 2007 (K7), 07-08 (K8), 2009 (K9), 10-11 (L0)
GSR600 06-07 (K6), 07-08 (K7), 08-09 (K8), 2009 (K9)
GSR600 S 06-07 (K6), 07-09 (K7)
GSX-R1000 00-01 (K1), 02-03 (K2), 2003 (K3), 03-05 (K4), 2005 (K5), 05-07 (K6)
GSX-R1100 1993 (WP), 1994 (WR), 94-95 (WS), 95-96 (WT)
GSX-R600 00-01 (K1), 01-02 (K2), 02-04 (K3), 2004 (K4), 04-05 (K5), 05-06 (K6), 06-08 (K7), 96-97 (V), 97-98 (W), 99-00 (X), 2000 (Y)
GSX-R750 2001 (K1), 01-02 (K2), 02-04 (K3), 2004 (K4), 04-06 (K5), 2006 (K6), 06-08 (K7), 95-96 (T), 96-97 (V), 97-98 (W), 91-93 (WN), 92-94 (WP), 94-95 (WR), 95-96 (WS), 98-00 (X), 2000 (Y)
GSX1100 F 92-93 (N), 94-96 (R)
GSX1300 R Hayabusa 01-03 (K2), 03-04 (K4), 04-05 (K5), 1999 (X), 99-01 (Y)
RF600 R 1993 (P), 94-95 (R), 1995 (S), 95-96 (T), 96-97 (V)
RF900 R 1994 (R), 94-96 (S), 1995 (S2), 96-97 (V), 97-99 (W)
YAMAHA
FZ8 10-12, 13-14
FZR600 Genesis 1989, 1990, 91-92, 92-93
FZR600 R 94-95, 95-96
FZS1000 Fazer 00-02, 03-05
TT250 R 2004
XJ6 F Diversion ABS 10-12
XJ6 N 09-12, 2013
XJ6 N ABS 09-12, 2013
YZF-R1 1998, 1999, 00-01
YZF600 R Thundercat 1996, 96-97, 98-04
YZF750 R 1993, 94-95, 95-96, 96-97
YZF750 SP 93-94, 94-95, 95-96, 96-97