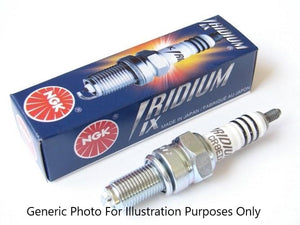 NGK Iridium Spark Plug - CR10EIX
NGK is the undisputed leader in Motorcycle Spark Plugs, with spark plugs for virtually every Motorcycle and Scooter application in the world. Utilizing a wide variety of materials, from standard copper-core type to Iridium, NGK is the world's leader in spark plug engineering and technology. NGK Spark Plugs are specified by more motorcycle manufacturers, including Honda, Yamaha, Suzuki, and Kawasaki.
NGK Iridium Spark Plugs
Longer life

High fuel efficiency

Better electrode anti-oxidation

Improved ignition

Better electrode anti-erosion

Superior anti-fouling

Lower required voltage
Iridium IX Spark Plugs are the most technologically advanced high performance plugs available. Featuring a 0.6 mm iridium center electrode tip, they offer superior ignitability without sacrificing durability. The tapered ground electrode increases flame kernel expansion, while the superior heat range design is ideally suited to the demands of high performance environments.
Fits the following models
SUZUKI
DR650 SE 95-97 (T)
GSX-R750 89-90 (L Slingshot), 91-92 (M Slingshot)
XF650 Freewind 1997 (V), 1997 (V Low Seat), 97-99 (W), 97-99 (W Low Seat), 99-00 (X), 99-00 (X Low Seat), 00-02 (Y), 00-02 (Y Low Seat)
YAMAHA
YZF-R6 98-02, 02-03, 2004, 04-05, 06-07, 08-10, 10-11, 2011, 2012, 2013, 2014, 2015, 2016